I'd
written about Cuba before
(back in 2008), noting how the 50-plus years of sanctions and embargoes had proven to be a colossal waste of time and resources:
...The big reason why there won't be any change is because of us, the United States. Our stance on Cuba has not changed in 49 years (then), and at some points have even worsened, simply because of ideology and stubbornness. While we have legitimate grievances against Castro's communist (and post-Soviet authortarian) regime, we've never attempted genuine diplomacy and dialog. Instead we've forced embargoes, sanctions, denials, covert ops, basically every hardliner stance we could think of. We'd also tried invasion once. We'd also tried exploding cigars and Nair assaults on Castro's beard (I'm not kidding!).
The problem is that all our efforts are wasted: other countries do not observe the sanctions and embargoes, so Cuba stays afloat (barely) financially. Castro and his buddies, meanwhile, use our bullying ways to act defiant and manly, and they get to look good while they do it. And what's worse, we know it's working for them, and not for us.
But we can't change, can we? Even with all the expert advise, all the obvious clues, we can't change our behavior towards Cuba because no one in D.C. wants to upset 200,000 plus Cuban exiles sitting in South Florida... even though a growing number of them think the sanctions and embargoes need to go...
This month,
President Obama changed the rules
: he's making open gestures to the Cuban government to work towards ending this half-century of hostility (via Jeffrey Goldberg):
...Critics of the Obama administration, and critics of the Castro regime, will say that today's decision to normalize relations between the two countries represents a victory for one-party rule. I think they are wrong; there is a very good chance that the U.S. comes out the winner in this new arrangement, and not only because Alan Gross is now home.
It is difficult for a Castro to agree to normalized relations with the United States; anti-Americanism is a pillar of the regime. But looking around Cuba earlier this year, it was apparent that there was an opening for the Obama administration to change direction and actually influence the course of events inside Cuba.
President Obama—and Benjamin Rhodes, the National Security Council aide who led the negotiations with Cuba—saw an opportunity to open up Cuba to American influence, and they took it. They will be criticized mercilessly—they already are—for giving too much ground to the Cuban regime. But Obama and his team knew something that many previous administrations before them also knew: U.S. policy toward Cuba was self-defeating. Five decades of an embargo, five decades of hostility, had not dislodged the Castro brothers, and had not brought even a suggestion of democracy to the island...
At first, my immediate response was to think - and claim elsewhere - that 50 years of sanctions had not worked. But... kinda... in a way it did. While the embargo and open hostility made the United States into an international bully picking on our neighbor state, and while it made Cuba under the Castro brothers into an intransigent one-party dictatorship with a horrible record of human rights violations, it also made Cuba into a very weak, economically unstable regime.
Goldberg's own article opens with him showing his kids around the backroads of Cuba, where poverty was constant and nearly everything rusted out and worn down. Where most other Caribbean and Central/South American nations have at least kept up with economic growth and the Internet thanks to
various trading deals
with the U.S. as a major partner, Cuba's been stuck - literally - in 1959.
The only things keeping the Castro regime in power - after the fall of the Soviet Union in 1991 - were its ardent anti-American stance, and an alliance with Venezuela that kept it supplied with oil to keep up with energy needs. And now with Venezuela facing
dire bankruptcy problems
of its own, Cuba is running out of trading partners - other nations don't respect the embargoes too much, but those sanctions have crimped how much they can do with Cuba - to keep it afloat. In this regard - economics - the sanctions did have an effect.
Where the sanctions failed was forcing the Castros and their leadership partners into any kind of political reforms. As long as the sanctions were in place and as long as the anti-Castro forces poised along the Florida coastline stoked with anger towards them, Fidel and his brother Raul were in no rush to do anything like open elections.
The current push for openness between Cuba and the United States is noticeably limited and still requiring a lot of negotiation. This is where diplomacy - actual dialog, not gunboat - comes into play. If the United States deals from a position of
respect
- not strength, which was how those sanctions have been viewed all these decades - with the Cuban leadership, they can craft a decent economic and cultural deal that can directly impact the nation towards a path of media and social openness in ways to affect the political.
Goldberg's
follow-up article covers
why diplomacy with Cuba compares a lot to the U.S. dealing with other one-party (formerly Communist) nations like China and Vietnam, with one notable exception where U.S. intervention might help:
There will be many ways to test whether the Obama administration, and those who support its decision to reestablish ties with Cuba after a half-century hiatus (including yours truly), are correct in arguing that broad exposure to America, to its people and to its businesses, will translate into greater openness and freedom for ordinary Cubans. One of the most important ways to measure this will be to watch levels of Internet connectivity—open, affordable, unfiltered connectivity. Many Cubans I've met have quite literally never been on the Internet. In two years, if rates of exposure to the Internet remain the same, then the great Obama experiment could be judged, provisionally, a failure.
Critics of Obama's overture to Cuba argue that close U.S. ties with Vietnam and China are proof that exposure to America does not translate into political freedom—it translates into greater access to Coca-Cola products, but not to the spread of American ideals of free speech and pluralism. These critics have a point, of course (though critics of these critics also have a point: If the U.S. can have normal diplomatic and commercial ties with China, a terrible violator of human rights, why should it not have normal diplomatic and commercial ties with Cuba, a country ruled by a government that is less malignant than China's?)...
Cuba, of course, is not China, and it is not Vietnam: China is large enough to create its own weather, and Vietnam is 8,000 miles away. The U.S. will have influence in Havana—a 45-minute flight from Miami—in profound and useful ways...
What Goldberg is getting at is how the United States' influence on Cuba will be overwhelming, not just economically but culturally. It's the closest Caribbean nation to us where tourism will become a major industry practically overnight (since all the others already have it): considering the curiosity factor alone, the first year of open travel would be huge. Take the tourism numbers (and dollars) of places like Jamaica and Bahamas (two of the biggest destinations for Americans), and add them together to consider how many will travel to Cuba as a bucket-list thing to do. Cuba's not part of the cruise line stopovers: once a deal's in place, every line will bid like mad for friendly ports (and a lot of construction at those ports for hotels, restaurants, amusement parks, shopping venues. Infrastructure such as roads, water and sewage, communication networks will see a huge business boom).
And more than just the massive influx of tourism dollars, it will be the exposure to Americans and Cubans, person-to-person in ways we don't do enough with China and Vietnam (literally half the world away). I'd like to think enough decent Americans visiting over there will meet enough decent Cubans to where Cubans will see American attitudes - and, let's be blunt, our bluntness - as our way of being open and honest with ourselves and with others.
And that's just the tourism bit. One of the big benefits of ending the hostility will be the chance of families - the Cuban exile community - divided by decades of political bullheadedness having a chance to go home in peace, or at least visit regularly and rebuild lost legacies.
Again, a lot of this is going to have to involve delicate dealings with a lot of egos on both sides to soothe: the pro-Castro regime is not going to like any demands from the anti-Castro exiles and vice versa. The sticking point will be settling reparations or restorations of properties/businesses from the 1960s. The anti-Castro groups will most likely insist on criminal charges for human rights violations as well (as anyone fighting over the U.S. torture regime and our failure to indict any of those criminals will attest, it's a messy argument).
Thing is, let's face facts: the Cold War is over.
We won. Yay capitalism
. Our ongoing hostility towards Cuba was really going nowhere in terms of our international standing. Out of sheer spite - out of America's paternalistic political world-view of North America as our personal playground - we've been perpetuating an economic lockdown of a nation that could prove a solid trading ally and a force for regional good instead of evil.
It's been eleven Presidnets - Eisenhower, Kennedy, Johnson, Nixon, Ford, Carter, Reagan, Bush the Elder, Clinton, Bush the Lesser, Obama - since those sanctions were placed. Ever since Bush the Elder's tenure, when the Soviet Union fell and Cuba lost its protector, we should have been making this effort to normalize relations and use
peace
to end the Castro regimes.
At least Obama is making the effort now
. While the Republicans and the Far Right (among them the exile hard-liners) will scream bloody murder about this, nearly every other player involved - our allies, local nations,
a majority of Americans
a lot of whom weren't even alive when the Cold War ended - will see this as a good thing.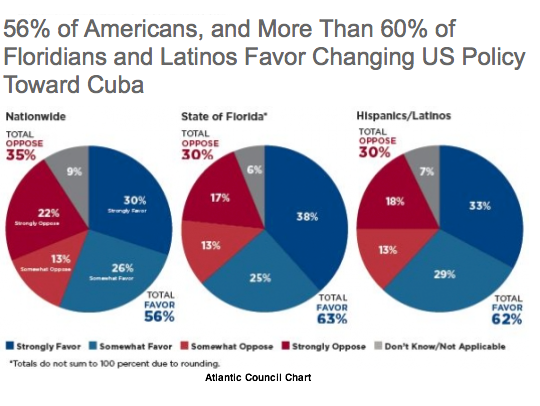 via Huffington Post
And with luck, Disney will be smart enough to keep the 1950s Art Deco
retro look
when they turn all of Havana into an Epcot Center.
(caveat: I am writing this from Florida. Any Floridian will tell you: Do Not F-CK with Disney. They're like
Hyman Roth
, only with better PR.
If they wanna turn all of Havana into an Epcot
, nothing's gonna stop them)