And the fandom rejoiced
.
Local hero Ta-Nehisi Coates has been tapped by Marvel Comics to write a year-long (12 issue) story for the Black Panther superhero series.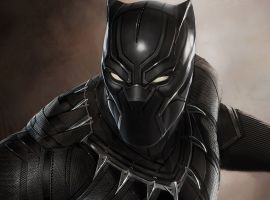 From io9
:
The news was unveiled by the
New York Times
in a new interview with the writer, who's known for his two nonfiction books
The Beautiful Struggle: A Father, Two Sons, and an Unlikely Road to Manhood
and
Between the World and Me
, as well as a vast number of contributions as a journalist for
The Atlantic,
Time and many other outlets.
Coates is widely held to be one of the most respected commentators on cultural and social issues regarding the plight of African American citizens in the U.S. today
, and paired with an amazing artist like Brian Stelfreeze, it's hard not to be excited about what the author will do with T'Challa—especially as its his first foray into writing comics.
There's a good number of comic book fans among the Open Thread Horde - AKA the Lost Battalion - so they were pretty much geeking out on Facebook all afternoon.
This is huge (per Vulture)
:
...A bit of background on Black Panther: He's a king from a fictional, extremely technologically advanced African nation called Wakanda. He has some slightly mystical powers but mostly relies on his blinding intellect and high-end weaponry. He was co-created in 1966 by comics legends Stan Lee and Jack Kirby — oddly enough, before the founding of the Black Panther party just a few months later. He's remained a staple in Marvel stories ever since, and will be first appearing in cinematic form in next year's Captain America: Civil War, with a solo movie in 2018.
And a bit of background on Coates: He's a giant superhero geek. I spoke with him about caped crusaders for more than two hours earlier this year, and I've never encountered an ostensible comics-industry outsider who was so intelligent and insightful about the subject. As of then, he'd never written a comic (though he vaguely alluded to overtures from people within the industry about such a project)...
...Which leads us to today's news about the Coates-penned Black Panther. We don't know how long the series was in development, but it's certainly a major reversal for Marvel's optics. Indeed, although other leading publishers like DC and Image have their own laudable pushes on diversity, none of them have the kind of momentousness and crossover potential of this hiring. This isn't just bringing a writer of color onto a book about a character of color — it's bringing the leading voice on race in America onto a book about one of the most important characters of color to ever appear in comics. There have been politically charged and progressive stories about the character in the past (most notably, the incredible turn-of-the-millennium run from African-American writer and outspoken anti-racist activist Christopher Priest), but this is a period in superhero history where, more than ever, diversity is a clarion call for fans. Coates is answering the call, and it will be fascinating to see what he has to say.
I am envious. The man is gonna get a series published for a comic book due to have a movie release for the Marvel Cinematic Universe. He's gonna get all the attention, some of the love, some of the nit-picking (sad but true, geek fans are obsessive with this), and it's gonna be one of the crowning moments of his whole geek life.
Meanwhile I'm sitting here banging my head against the keyboard trying to get two more sections of my own superhero novella to make more sense in the overall narrative, wondering if DC Comics is ever gonna call me back on getting a one-shot of Brother Power the Geek scripted (I kid, I don't think they're bringing Brother Power back for anything). Sigh... le sigh.