If
the current Presidential polling is correct
- and yes, it is still too early although it's getting to the point where the numbers have to be taken serious - then the states we USED to call toss-up battleground states are no longer in play:
States like Virginia and Colorado - with relatively large suburban, conservative-leaning voters - are currently for Hillary over Trump in double digits. That is almost unheard of outside of solid Blue states like California, Illinois and New York where urban and progressive-minded voters tend to be. North Carolina - which went Obama in 2008 but then flipped to Romney (and went Republican at the state level) in 2012 - is now solidly for Hillary. Florida is the only state where Trump even has a wisp of a chance polling five points under Hillary... and given how Florida went Obama TWICE and that our state is full of Hispanics and educated Whites, there's little hope for Trump - outside of voter suppression - to flip the Sunshine State any time soon.
And this is covering both variables of head-to-head (Hillary vs. Trump) and with the four-player race (Hillary vs. Trump vs. Johnson vs. Stein). Having the third-party candidates in the mix does not do Trump any favors and does not hurt Hillary one bit.
If we had to play out the Electoral College right now, the map is going to look like this.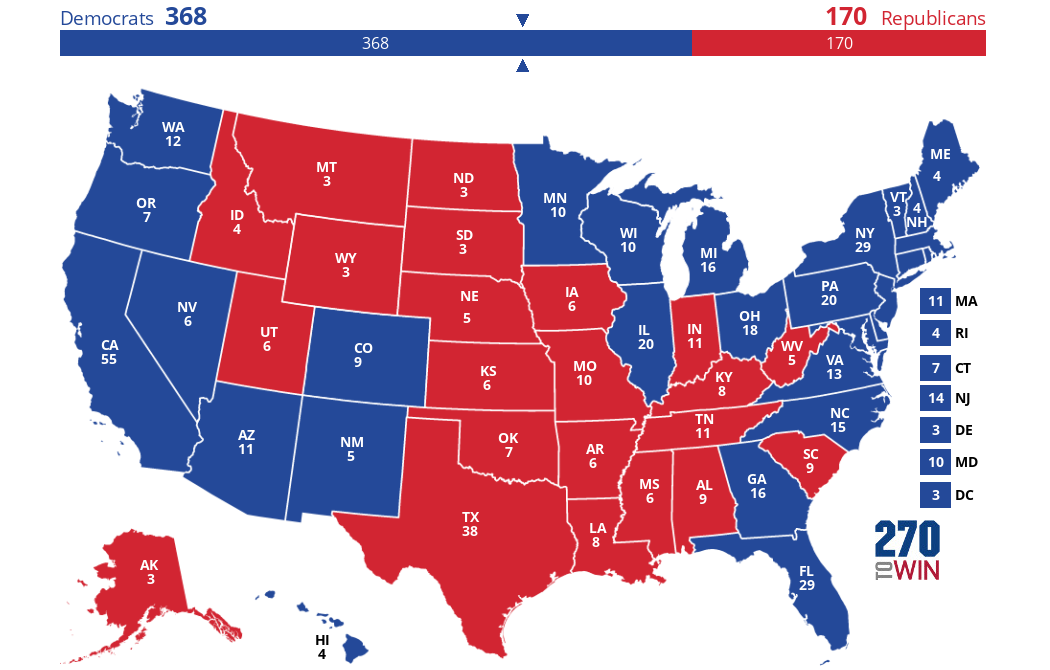 Click the map to create your own at
270toWin.com
Sadly, Utah is currently polling for Trump, which kinda hurts the narrative about Mormons hating the cheeto-faced ferret-wearing sh... uh, Mormons don't like the cursing, but anywho, you get the drift. Thing is, the polling still shows a tight race with Hillary within 5 points: Given how conservative Utah is, that is shockingly good performance for her. And something that she can use to turn Utah into a new battleground state.
And this map doesn't show how close Iowa is... and Indiana... and Mississippi... and South Carolina... and Texas is still a
maybe
... and...
Key thing remains:
Getting the vote out is important
. Polling is one thing, actual voting - and voting in large enough numbers to thwart any rigging - is everything.
Get to it, America. Stop Trump. Vote Hillary. I'm with her.