So. Charlottesville.
Read
through this link
to
Balloon Juice
.
Watch this:
We were supposed to get better at this.
We were supposed to answer to
the better angels of our nature
.
We were supposed to fight Nazis, and the Klan, and hate.
Instead they flourish in a right-wing stew of fear-mongering and anger.
Instead the worst of us sit in the White House, in Congress, at high seats of power, using that fear and anger to propagate their own and deny everyone else our citizenry and humanity.
These Nazis, Klansmen and White Supremacists marching through Charlottesville this past weekend were ostensibly there to protest the removal of Confederate statues and memorials, claiming right of "heritage". But they were really there to incite mobs to acts of violence. And they got what they wanted.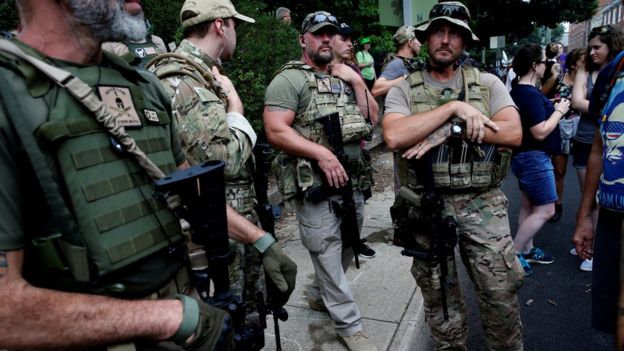 Look at their turnout. Mostly male, entirely white, carrying guns and wearing body armor, spoiling for a fight.
And now people are dead. The ones who came out
in greater numbers
to stand against the Nazis and haters were attacked, beaten, and killed.
Heather Heyer died
when one of the White Supremacists drove his car -
he sped up for impact
- into the street march rallying against his side. Remember Heather's name. Consign that murdering driver to the forgotten hellhole he deserves.
This isn't hard, Republicans. This isn't a case of "Both Sides". One side is violent, angry, ill-informed, and dangerous, beholden to failed ideologies of slavery and genocide like the Confederacy and Nazi Germany. The other side are Americans of all colors and faiths working to build America and keep it strong.
We need to turn back to our better angels. We need to cut off the oxygen to the Far Right racist radicals seeking to tear America down.
We need our United States of America back.